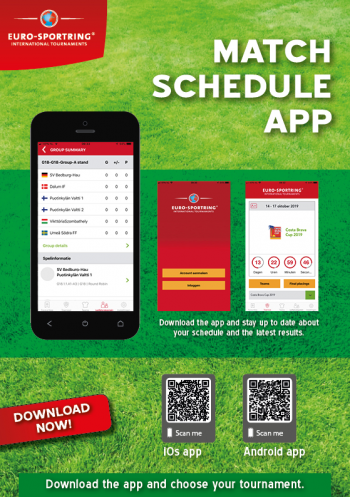 Update:
Please download the playerslist here which you need to present at check-in


Euro-Sportring introduces: The Euro-Sportring Match Schedule App

Download the app and see your match schedule, actual results, standings and the latest information about your tournament. Download here.

A warm welcome to our accommodation in Huizen, the location for the Huizen Gooimeer Cup.
I am proud to see that the fruitful cooperation between s.v. Huizen and Euro Sportring has resulted in this international youth soccer tournament. I am convinced this will lead to a lot of joy and fun during both tournament days.
I would especially like to thank our sponsors, the s.v. Huizen crew and all other people involved who are supporting us in making this a successful tournament. Also thanks to the municipality of Huizen for their support and the Euro Sportring foundation for the good teamwork together.
I wish all players, coaches, referees, officials and other stakeholders and our s.v. Huizen organizational teams all the best for a beautiful and sportive tournament. Soccer connects people!

With kind regards
Gerlinde Podt
Chairwoman s.v. Huizen

Een hartelijk welkom op onze prachtige accommodatie, het decor voor de Huizen Gooimeer Cup. Met veel plezier en inzet hebben wij vanuit de s.v. Huizen in samenwerking met Euro-Sportring dit internationale jeugdtoernooi voorbereid. Met als doel er twee mooie voetbaldagen van te maken.
Graag bedank ik langs deze weg al onze vrijwilligers en onze toernooisponsors, die de Huizen Gooimeer Cup mede mogelijk maken. Ook dank aan de gemeente Huizen voor hun medewerking en aan Euro-Sportring voor de prima samenwerking.
Ik wens alle deelnemers, begeleiders, scheidsrechters, mensen van de toernooiorganisatie en andere s.v. Huizen-vrijwilligers veel (voetbal)plezier en een sportief toernooi toe. Mooi, om elkaar door voetbal te ontmoeten.
Met vriendelijke groet,
Gerlinde Podt
Voorzitter s.v. Huizen